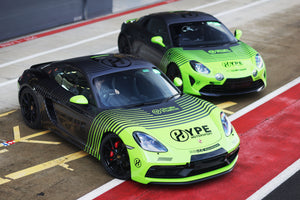 SUSTAINABLY RUN CORPORATE PACKAGES
EXPERIENCE PURE DRIVING, WITHOUT COSTING THE EARTH
The mean, lean and green corporate track day and event provider
Welcome to Hype Corporate Track Day Events - Where Unforgettable Shared Experiences Come to Life!
At Hype, we specialise in crafting exceptional track day events that bring together clients, colleagues, and friends for a day of excitement and camaraderie. Our experienced team takes care of every detail, ensuring a seamless, safe, and thoroughly enjoyable experience from start to finish.
Why Choose Hype Drive for Your Corporate Track Day:
Flexible Group Sizes: Whether you have a small team of 4 or a larger gathering of up to 30, we can cater to your needs. Our events are hosted at premier UK motor racing venues and renowned European circuits like Spa Francorchamps, Nurburgring, Zandvoort, and Zolder.
Exclusive Venue Access: Looking to combine business with pleasure? Our exclusive access to other venues allows us to seamlessly blend thrilling driving activities with conferences, business updates, and product launches.
Tailored Experiences: Every event is tailored precisely to your group's preferences, including the number of guests, their experience levels, preferred locations, budgets, and the desired date. Whether your guests are seasoned drivers or newcomers, we have options to accommodate all, including Sim or Hot Laps experiences.
Eco-Friendly Initiatives: We take pride in running sustainable events that go beyond carbon neutrality. Thanks to our partnership with ClimatePositive, every Hype participant will receive a

ClimatePositive

car badge for their own vehicle, effectively offsetting its CO2 emissions for an entire year.
Inclusive Participation: Anyone over the age of 21 with a full driving license can participate in our events. Younger guests or those without a license can still join the fun with alternative options.
Additional Options: For companies seeking even more from the day, ask us about race car hot lap experiences, company branding at the events, gift sets and personalised trophies.
Don't believe the Hype? Hear what our customers have to say about their recent experiences by checking out our customer reviews .
Get ready for an adrenaline-pumping, laughter-filled day with your team. Contact us now to discuss your dream corporate track day event, and let's create memories that will last a lifetime!
Please complete the form below or call 0333 772 2120.