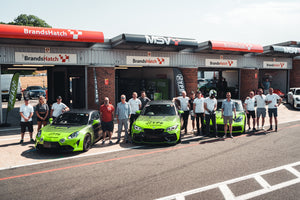 REWARDING BENEFITS, THE HYPE WAY 
HYPE CORPORATE MEMBERSHIP
New for 2023 is Hype Motorsport's exclusive corporate membership product, designed to offer cost-conscious clients the very best in year-round corporate entertainment. 
Creating bespoke packages for clients across the UK, we can offer any number of corporate events, track car rentals and customer spaces on our Hype Drive experience days – all rolled into one simple subscription-based service. Not only does this guarantee that clients can enjoy as much on-track action as they wish, it also offers a cost-efficient mechanism to spread payments across the financial year. 
However, the benefits don't stop there. Corporate members will also have the opportunity to support Hype Motorsport's entry in the 2023 Porsche Sprint Challenge series, enjoying exclusive corporate hospitality at race weekends around the country. Passenger laps in the awesome Cayman GT4 will also be made available at selected events in which members participate. 
Adding to this heady cocktail of racetrack-themed activities isour newly-formed partnership venture, Apex, in which we are collaborating with high-profile automotive-themed businesses including The Motorist, Berry's, Supercar Society UK and Specialised Covers. Invitation-only attendance to Apex events will also be offered to our corporate members along with a range of exclusive partner promotions and special offers.
Please contact XX by email on XX or XX for information. Alternatively, feel free to complete the corporate enquiry form below and we will get back to you! 
Contact Hype to find out more